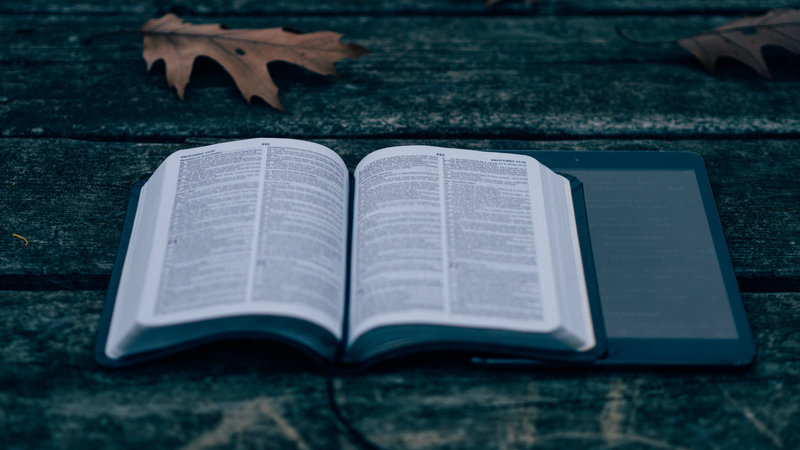 It began in seminary.
That week, multiple professors mentioned that each student in the class ought to memorize Romans 8. I looked up Romans 8 — it was long. I had never memorized a whole chapter of the Bible before. As far as I was concerned, that wasn't for average saints. It was for the extraordinary Christians — the kind who read Calvin in their free time and had Greek and Hebrew words tattooed on their ankles. Memorization, like Mark Twain said of the classics, is something everyone wants to have done but nobody wants to do. Maybe I could get through Psalm 23, I thought. Maybe.
But God kept after me, telling me to go to the Ninevah of memorization — I couldn't hide.
I hobbled through the semester. After several months, I completed Romans 8 — I was astonished. I, the chief of forgetters could recite one of the greatest chapters in the Bible. And a question came to mind, if God could help me limp through memorizing Romans 8, what else could he help me memorize? My quest began there.
Daggers and Swords
I've learned that length of the text matters in memorizing. And, because I would have been a warmonger in another life, I think of different lengths of texts as different weapons.
Individual verses and smaller sections are daggers. Although the shortest in the soldier's arsenal, these are for hand-to-hand combat. As in medieval times, the dagger was a last resort, a defense against ambush. Direct and to-the-point, daggers are golden promises found in Scripture to support when Satan assaults us unexpectedly. For example, in a moment of sexual temptation, "Flee!" can save your life (1 Corinthians 6:18). Every Christian soldier needs daggers.
Chapters, or larger sections of Scripture, are swords. Although longer and requiring more effort to master, swords were the medieval soldier's most useful weapon. Swords were offensive, and carried by those expecting war. Broad swords (texts), are not only made up of daggers, but sharpen each dagger with context. The chapter draws you into the author's thoughts, and makes greater, deeper sense of the individual verses. A dagger will save your life in a vulnerable moment, but you wouldn't head into war without a sword. Memorizing chapters prepares us to go on the offensive against the enemy's ranks.
Take Up Your Swords
My challenge concerns swords. Though daggers have vital uses, I challenge readers to memorize chapters of the Bible for at least four reasons:
1. Swords are not easily forgotten. The silver of memorization comes from the initial steps in memorization; the gold comes from sustaining it. When I only have daggers, I often forget I have them, and don't revisit them consistently. I remember that I have memorized 39 verses in Romans 8, but I would forget that I memorized 39 individual daggers from all over the Bible. Memorizing chapters helps me remember what I've memorized so that I can review.
2. Swords help create discipline. Swords are the baby-bear of Christian memorization: not too short (dagger), but not too long (a whole book which we might call a spear). As we memorize longer sections of Scripture, we are forced to move last week's verses from short-term to long-term memory. Long sections of Scripture cannot be memorized without discipline.
3. Swords arm us to love each other better. Although often neglected, God calls us to study those in our lives that we might stir them up to love and good works (Hebrews 10:24). After studying them, larger sections of Scripture can become a trustworthy playbook for love.
4. Swords make God's word mobile. Mornings can get hectic. The best intentions can be interrupted by a screaming child, a distressing phone call, or a snoozed alarm. On such days, I can't pull out my Bible and study the text on my way to work. But I can meditate on chapters I've memorized. Swords are the ideal length for ten to fifteen minutes of extended meditation.
How to Pick Your Swords
So how do you pick what to memorize? I suggest the following:
Pick chapters that aim at specific sin struggles. If busyness tempts you, memorize John 15. If adultery tempts you, memorize Proverbs 5. If apathy to the word tempts you, memorize Psalm 1. Pick specific swords to decapitate your sin.
Pick chapters that will minister to particular people in your life (see number three above).
Pick chapters that more explicitly display God's majesty. One way to consistently pop the helium balloon of your own ego is to memorize texts that behold your God. Texts like Isaiah 40 or Revelation 5 humble the creature before his Creator.
Pick chapters that remind you of the life to come. Select swords that remind you that you are not home. Linger with founding pilgrims in Hebrews 11 or catch a glimpse of that coming day in Revelation 21.
Pick chapters that have gripped you. The Spirit grips individuals in specific ways. People have life-verses. I believe in having life-chapters. If the story of the prodigal son grips you, do not let it linger outside your heart as the elder brother, memorize it and bring it into your home.
A Glorious Army
Dream with me: What if every saint had two or three chapters written on their heart? What if everyone in your church or small group had two or three different swords ready for battle — to war against Satan and to strengthen the brothers and sisters fighting next to them? A member who lived by the still waters of Psalm 23 and beckoned others to come and sit. One who constantly abided in Jesus the Vine of John 15, and bid others to daily receive the same nourishment. One who taught the group how to bid sinners to come and drink freely from the wells of living waters as they remained submerged in Isaiah 55. What might that be like?
The Challenge
I've been encouraged by such saints and challenge you to be one.
One of my favorite spiritual questions to ask over the past two years has been: If you could memorize five chapters of the Bible, which five would you choose and why? You can learn a lot about someone and spur great conversations through this question. After the excitement rises with the prospect of memorizing five, I simply ask, why don't you do it? Some roll their eyes, but some have embarked on the quest.
Now I extend the challenge to you. If you have never memorized a chapter, the challenge is to start with one. If you have a habit of memorizing, pick three and write them on your heart. The challenge: over a lifetime, write and sustain five different chapters (or longer sections of Scripture) on your heart.
from Desiring God http://tracking.feedpress.it/link/10732/6019077
via
DG